Books
Totally Scripted: Idioms, Words, And Quotes From Hollywood to Broadway That Have Changed The English Language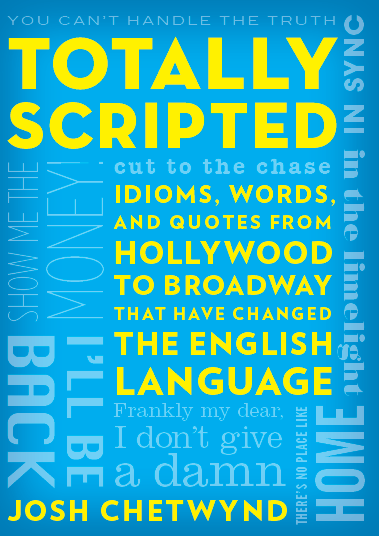 (Lyons Press/Globe Pequot, 2017): The language of Hollywood and theater resonate beyond the stage and screen because it often has inherent drama—or comedic effect. This volume contains a combination of more than 80 expertly researched essays on words, phrases and idioms made famous by the entertainment industry along with the stories behind 30 of the most iconic—and ultimately often used—quotes from films. There are also sidebars that focus on other ways the entertainment world has changed language. For instance, stories behind stars whose names have been used for drinks (hello, Shirley Temple) or roses (Ingrid Bergman may be literally the greatest Hollywood rose).
Praise for the Book
"Totally Scripted by Josh Chetwynd entertains and educates on the origin of words, lines and phrases that have become a part of our everyday lives. For those in and outside of the entertainment business it is a wonderful read." - Gary Sinise, Oscar-nominated and Emmy-winning actor (Forrest Gump, Apollo 13, CSI: NY)

"Josh Chetwynd has created a furiously fast, funny, fantastic read. Lovers of language will revel in his painstakingly-researched etymology (Or is it entomology? No, wait, that's insects!) and fans of movies, television and Broadway will enjoy revisiting the films, shows and plays that have had such a lasting impact on our culture. Totally Scripted is filled with information, humor and enough "Oh, wow!" moments to keep the pages turning almost on their own. Josh's biggest challenge will be meeting the inevitable demand for Volume II." - Pat Sajak, Emmy-winning host of Wheel Of Fortune

"Totally Scripted is a wonderful, insightful read, packed with fascinating anecdotes and knowledge that will delight and inform everyone who loves the stage, film and TV." - Jason Moore, Tony-nominated and feature film Director (Avenue Q, Pitch Perfect)

"A page turning delight, and a must-read for all lovers of movies, pop culture and the English language...as well as a treasure trove of trivia to win bar bets!" - Bob Gale (Oscar-nominated screenwriter for Back to the Future)
The Field Guide to Sports Metaphors: A Compendium of Competitive Words and Idioms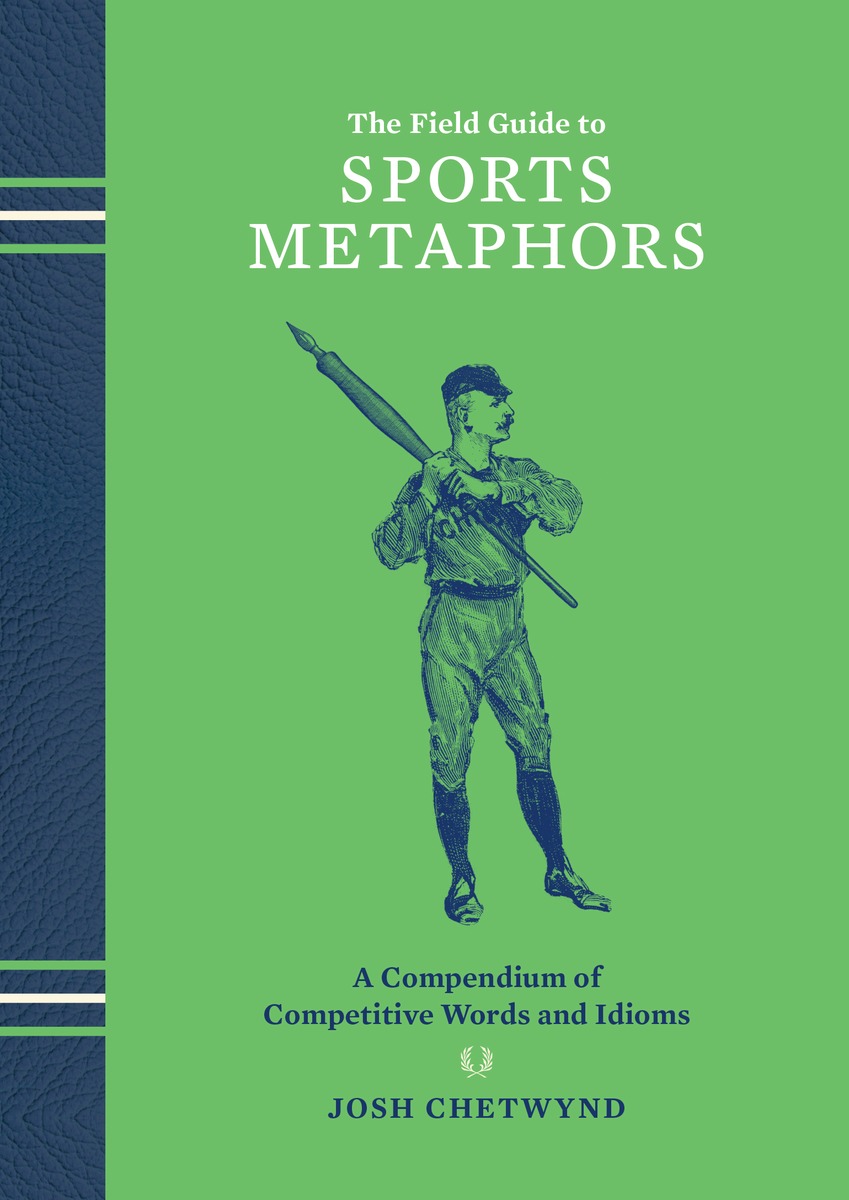 (Ten Speed/Penguin Random House, 2016) There are many metaphors we can quickly identify from the realm of sports: covering all the bases (baseball), game plan (football), and par for the course (golf). But the English language is also peppered with the not-so-obvious influence of sports and games, such as go-to guy (basketball) and dead ringer (horse racing). Filled with pithy entries on each idiom, plus quotes showing how famed folks from talk show host Conan O'Brien to rapper Ice-T use them, this quirky little handbook is sure to be a conversation starter at tailgates, cocktail parties, and in the boardroom.
Praise for the book
"Fascinating, informative and hugely entertaining. This is a book I will return to again and again." - Bill Bryson (Author of, among many other books, A Walk in the Woods and A Short History of Nearly Everything)
Named one of "25 Amazing Books For Spring." (2016) - Mental Floss
"Chetwynd's book covers all the bases." - Chicago Tribune
"Josh Chetwynd's study underscores the enormous influence that sports have had on our language … Chetwynd's accomplishment is … his easy style, engaging storytelling, and charming tone, which moves from high to low culture faster than an Allen Iverson crossover dribble." - The Weekly Standard
"Research into language—particularly the subject of when phrases entered common parlance—isn't easy. Josh Chetwynd was thankfully up to the task, and the result is an interesting look at how hundreds of sports metaphors entered the collective consciousness." - The Free Lance-Star (Fredricksburg, Virginia)
 The Book of Nice: A Nice Book About Nice Things For Nice People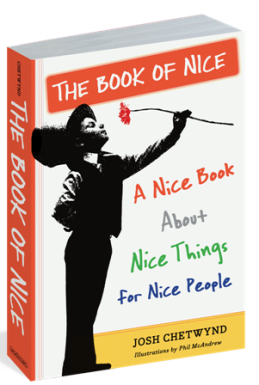 (Workman, 2013): Did you ever wonder why we do the nice things we do or how certain sayings or images earned nice status? This chunky book has all the answers -- along the way proving the road to nice is not always easy. Hello only became commonly used after a war of words (so to speak) between Thomas Edison and Alexander Graham Bell. The yellow smiley face was created to avoid mutiny following the merger of two insurance companies. Marie Antoinette deserves credit for helping send the song "For He's A Jolly Good Fellow" down the path to popularity. As for applause, well, playwrights once employed teams of hired hands to make sure their work got the proper amount of clapping. These stories and many more are featured as well as an explanation of why nice is often (unfairly, in my humble opinion) a trait dismissed by some.
Praise for the book
"[A] smart look at all things ... nice." - Oprah Winfrey's O Magazine
"Chetwynd explores being nice through chapters on gestures, songs, words, characters and offerings that spread the love and does so with wit and intelligence. It's an important book ..." - The Huffington Post
"Booksellers' Pick" - Barnes & Noble
"Recommended paperback ... [This] book is more than just a collection of facts, it reveals positive things about the way we live today." - Tucson (Arizona) Citizen
"If you're looking to add to the stack of books on your nightstand, take a look: ... fascinating factoids and trivia from history and pop culture. Superstitions, the art of smiling for the camera, giving flowers, sending greeting cards and other topics get their due." - Sacramento (California) Bee
Winner: Best Popular Culture Book - 2013 IndieFab Awards (given by Foreword Reviews magazine)
Winner: Best Popular Culture Book - 2013 USA Best Book Awards 
Endorsement in Oprah's O magazine
How the Hot Dog Found Its Bun: Accidental Discoveries and Unexpected Inspirations That Shape What We Eat and Drink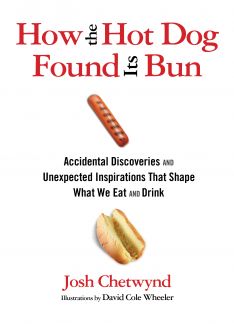 (Lyons Press/Globe Pequot, 2012): A fun history on how luck has shaped many of our favorite foods, drinks and other indispensable kitchen innovations and inventions. Surprisingly, lots of culinary favorites emerged in this fortuitous fashion, including the Caesar salad, nachos, fettuccine Alfredo, French dip sandwich, McDonalds' Filet-O-Fish, chocolate chip cookies, Graham crackers, potato chips and Pop Rocks. Drinks from champagne to Kool-Aid are covered as well as key kitchen items like dishwashers, microwaves and paper towels. As this is an area rife with tall tales, the book also does a bit of myth-busting on some popular, but ultimately unlikely claims (I'm talking about you doughnuts!).  
Reached number 13 on the New York Times bestseller list (ebooks/non-fiction) in May 2015
Praise for the book
"You'll be delighted by the author's splendidly told tales of [these] creations ... These are engrossing essays that are sure to steal a few hours of your time."  - The Louisville (Kentucky) Courier-Journal
"[This book] is a 'must' for any general lending library seeing popularity in either trivia books, cookbooks, or both. It packs in fun vignettes and trivia about the quirky world of kitchen invention, products and foods, and packs in keys to kitchen innovations through short essays that attack popular myths and offer insights into food facts. A fun, compelling read for a wide audience spiced with illustrations throughout by David Cole Wheeler, this is simply not to be missed." - The Bookwatch (Midwest Book Review)
"This book is like a culinary version of One Thousand and One Nights. Each entry combines the sturdiness and dependability of history with the readability and charm of a folk tale. I wish I'd had this volume at hand back when I was doing my live show on The Food Network. Hardly a day went by when I wasn't asked about the origins of one dish or another." - Sara Moulton, host of PBS's Sara's Weeknight Meals
"a book to boost your food IQ" - Martha Stewart's Everyday Food blog
The Secret History of Balls: The Stories Behind the Things We Love to Catch, Whack, Throw, Kick, Bounce and Bat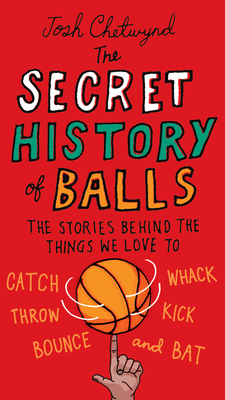 (TarcherPerigee/Penguin Random House, 2011): Balls are the sport and recreation world's unsung heroes. They are wacked, smacked, slapped, splattered, flicked, flung, dribbled, crushed, thrown, tossed and kicked. But despite their central role, these orbs usually only make headlines when something goes wrong like a tear or the application of an illegal foreign substance. All this is a bit odd if you consider that if you watch nearly any major sporting event, you're likely following the ball, wondering where it will go next. This book gives those underdogs of the games we play their due. With stories of more than sixty balls of all shapes and sizes, this volume isn't a dry a catalog of sporting goods -- instead, it's a fun ride through history with these game-making instruments serving as the springboard to a better understanding of our culture.
Praise for the book
Named one of the "Best Books of 2011" by NPR.
Labeled "Essential Trivia" by ESPN the Magazine.
Called "[a] little gem of a book" by The Wall Street Journal.
"[Chetwynd] shows us how the evolution of the ball has had a profound influence not only on each athletic activity we play but on much larger issues such as technology, language and culture." - The Denver Post
 "Anyone with an interest in sports or game development and history will thoroughly enjoy bouncing through these offerings." - The New York Journal of Books
Podcast from book signing at the Tattered Cover bookstore in Denver, Colorado
Baseball In Europe: A Country by Country History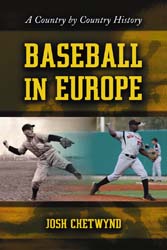 (McFarland and Co., 2008): This heavily researched book offers a comprehensive view into an area of sports history very few are aware of -- baseball on the European continent. The sport as we recognize it has been played there since the 1870s, and in several countries the players and devoted followers have included royalty, Hall of Famers from the U.S. major leagues and captains of industry. Organized by country, the book chronicles the history of baseball in 40 nations, describing not only the efforts to spread the game but also the culture of baseball unique to Europe.
Praise for the book
"impressive...scrupulously and thoroughly documented...an excellent research tool as well as an informative and entertaining read...this book will be the definitive work on European baseball for seasons to come" - Booklist/RBB
"Fascinating" - Chicago Tribune
"a comprehensive, handy reference guide to everything you need to know about America's Pastime on the Old Continent" - MLB.com
"Highly recommended" - Choice
"a well-written, highly informed, carefully researched, and scrupulously documented addition to international baseball scholarship" - Nine: A Journal of Baseball History & Culture
"authoritative" - ESPN.com
British Baseball and The West Ham Club: History of a 1930s Professional Team in East London
(co-authored with Brian A. Belton)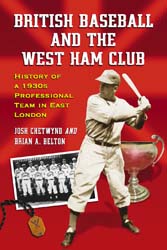 (McFarland & Co., 2007): Few people associate baseball with Great Britain, but for a brief period in the 1930s, America's pastime nearly gained a foothold with the British populace. Teams like the West Ham Hammers developed intense local followings, and played some excellent baseball -- in 1936, the Hammers defeated the U.S. Olympic team. This book traces the history of baseball as a popular British sport, concentrating on one particularly successful team, the West Ham Hammers.
Praise for the book
"British baseball fans constantly have to battle against the prejudices and preconceptions of their fellow countrymen, not least of which is the belief that the sport has no history on these shores ... Thankfully, British Baseball and the West Ham Club provides the reader with all the information they will need to answer their critical compatriots ... Chetwynd provides a fascinating overview of baseball's history in Britain." - BaseballGB.co.uk
"At last we have a detailed account of the brief period in British baseball history when the game enjoyed professional status ... Josh Chetwynd and Brian A. Belton have done [an] excellent job of researching this fascinating era ... [They] have done an excellent job in putting together a fragmented history into a cohesive and enjoyable order." - Baseballinwartime.com.